FANA welcomes all persons with an interest in fans. The benefits of membership include:
Association and interaction with other fan collectors and enthusiasts
Meeting announcements and registration materials
Publications, newsletters, and communications
Online access to FANA Journals, newsletters, and other resources
Access to FANA library of valuable books and articles
Directory of members
Opportunity to share knowledge
Committee and volunteer interests that may appeal to you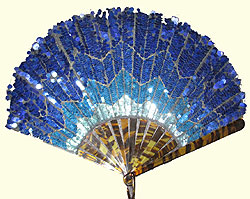 The annual membership fee for the year of June 1, 2019 – May 31, 2020 is:
$70 for USA residents, which includes First Class postage on all mailings.
$80 for non-USA residents (payable in US currency), which includes Airmail postage on all mailings.
To join as a Patron, the fee is the applicable membership fee plus a minimum of $100.
Application for membership may be printed from this site. Please complete the form and send it with the appropriate fee to the Membership Chair. We also offer an online application. Click on the link below to apply online. We welcome you!
ONLINE Membership Application
For New and Renewing Members who are paying with PayPal
Please click on "Online Membership Application."  The FANA Online Membership Form will appear.  Please fill in the boxes as directed. You may use your own credit card to pay via PayPal (no PayPal account is required).
Membership Application Form (paper)
For NEW & RENEWING MEMBERS who will MAIL THEIR CHECK
Please click on "Membership Application Form" above.  The FANA Membership Form will appear.
Please print and use this form if you are going to mail your check.
HAVE QUESTIONS?  Contact admin@fanassociation.org